Italian Food Courses: Learn How to Cook Italian Food at Home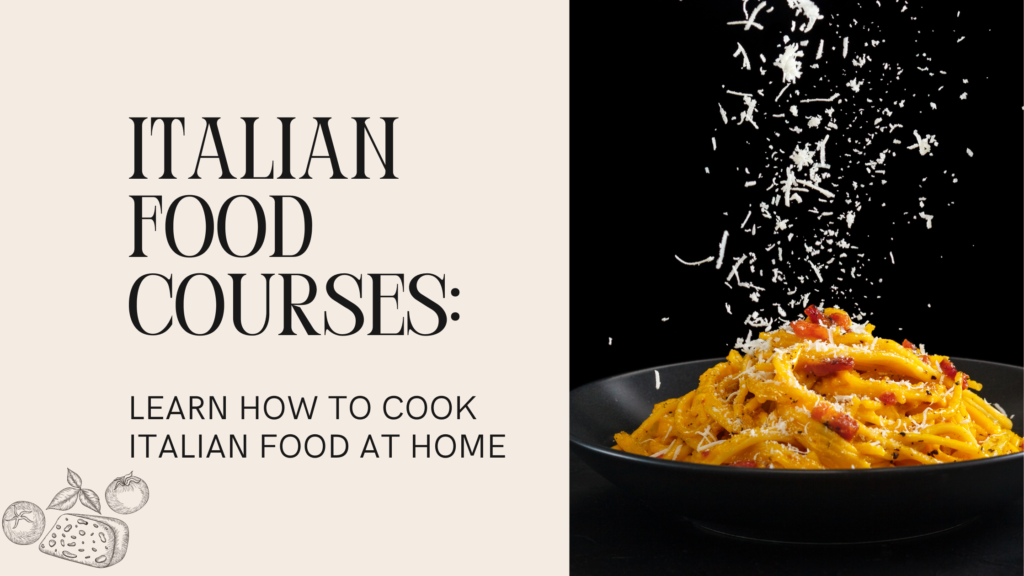 Disclaimer: This post may contain affiliate links of products I've used or approve; If you buy from them, you won't pay a penny more but I receive a small compensation that helps me create more content like this! Thank you 🙂
Are you a fan of Italian food? Do you want to learn how to cook authentic Italian dishes at home? Well, you're in luck because there are many great Italian food courses available online that can teach you how to cook like a pro! I'll let you know all about it:
Benefits of Online Food Courses:
There are several benefits of taking online food courses, including: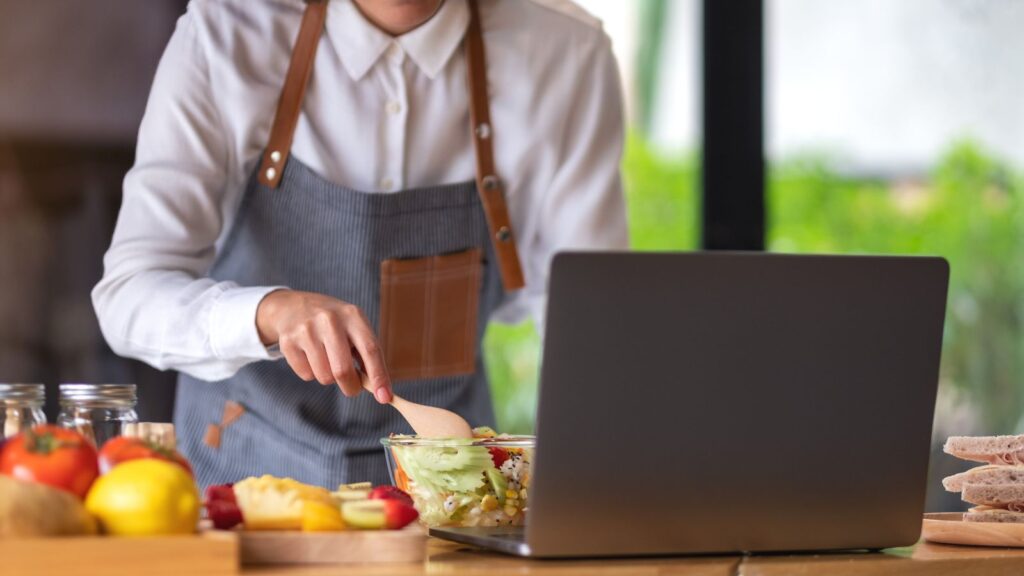 Convenience: Online food courses can be taken from anywhere, at any time. This means you can learn at your own pace and on your own schedule, without having to commute to a physical location.

Variety: There is a wide variety of online food courses available, covering different topics and cuisines. This means you can choose a course that matches your interests and goals, and learn about new cooking styles and ingredients.

Cost-effective: Online food courses are often more affordable than in-person classes, as they don't require the same overhead costs such as renting a physical location or providing materials.

Access to expert instructors: Online food courses may be taught by experienced chefs, nutritionists, or food bloggers. This means you can learn from experts in the field, who may not be available in your local area.

Learn new skills: Online food courses provide an opportunity to learn new cooking techniques, recipe ideas, and flavor combinations. This can help expand your culinary skills and repertoire, and make cooking more enjoyable.

Interactive: Many online food courses include interactive elements, such as quizzes, discussion forums, and live cooking demos. This can enhance your learning experience and provide an opportunity to connect with other food enthusiasts.
Massimo Bottura Teaches Modern Italian Cooking on MasterClass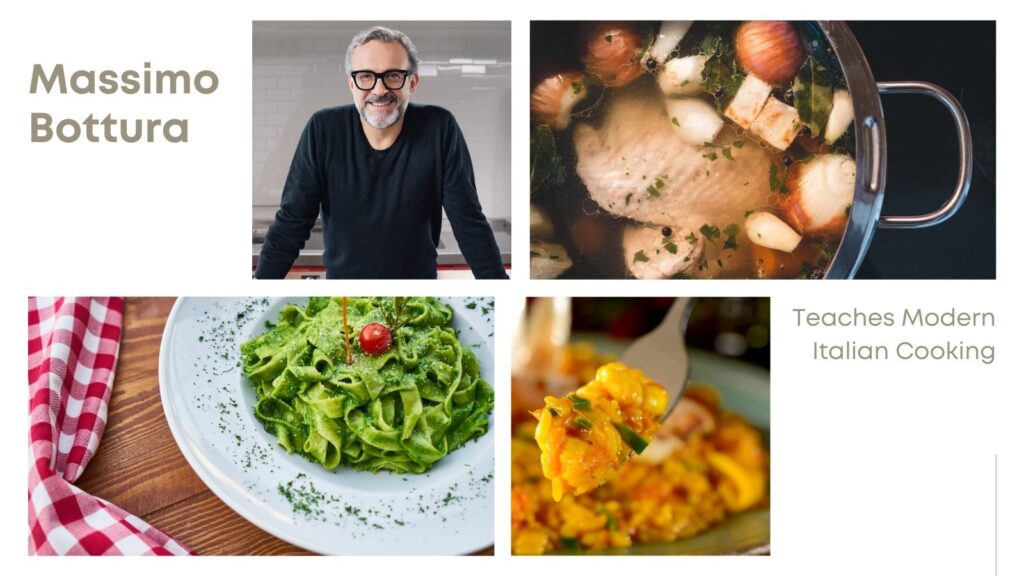 One of the best places to start is with MasterClass. They offer a fantastic Italian cooking course taught by none other than Chef Massimo Bottura, the owner of the world-famous Osteria Francescana in Modena, Italy. In this course, you'll learn how to make classic Italian dishes like tagliatelle al ragù, tortellini, and risotto. Chef Bottura will also teach you how to cook with ingredients like Parmigiano-Reggiano cheese and balsamic vinegar, which are staples in Italian cuisine.
Italian Cooking for Beginners on Udemy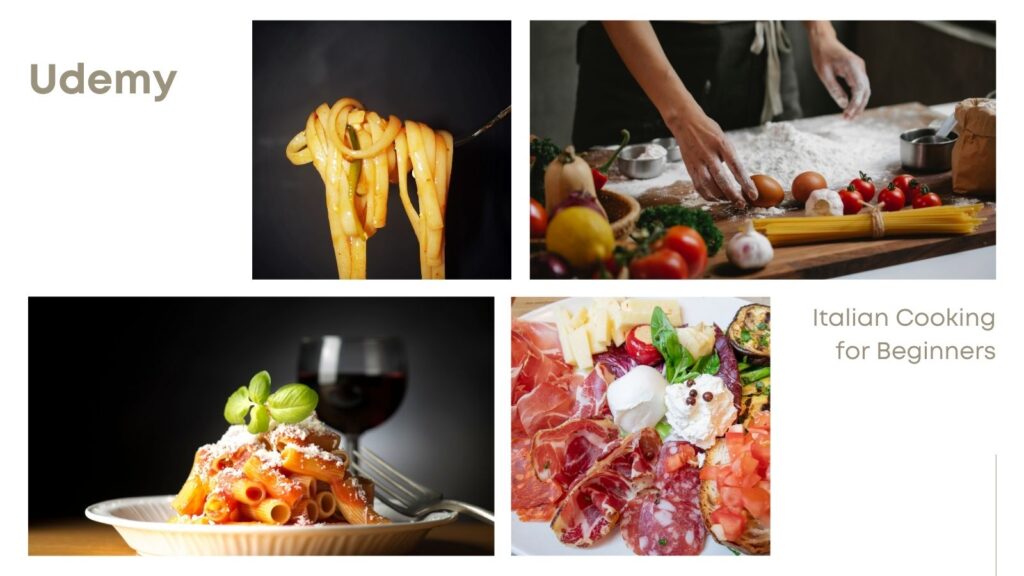 Another great option is Udemy. They have a wide range of Italian cooking courses that cater to different levels of experience. For beginners, there's the "Italian Cooking for Beginners" course that covers the basics of Italian cuisine, including pasta, sauces, and desserts. For more advanced students, there's the "Authentic Italian Cooking" course that teaches you how to make traditional dishes like lasagna, gnocchi, and tiramisu.
If you're interested in learning about Italian regional cuisine, Udemy also offers courses like "Cooking Tuscan: A Taste of Italy" and "Italian Cooking: Northern Italian Cuisine." These courses focus on the unique flavors and ingredients of specific regions in Italy.
In conclusion, if you want to learn how to cook delicious Italian dishes at home, taking an Italian food course is a great way to start. Whether you choose MasterClass or Udemy, you'll have access to expert chefs and comprehensive lessons that will teach you everything you need to know about Italian cuisine. So what are you waiting for? Get started on your culinary journey today!
*This article was written with the help of OpenAI's Assistant AI.