Panne Frattau Recipe: A Classic Sardinian Dish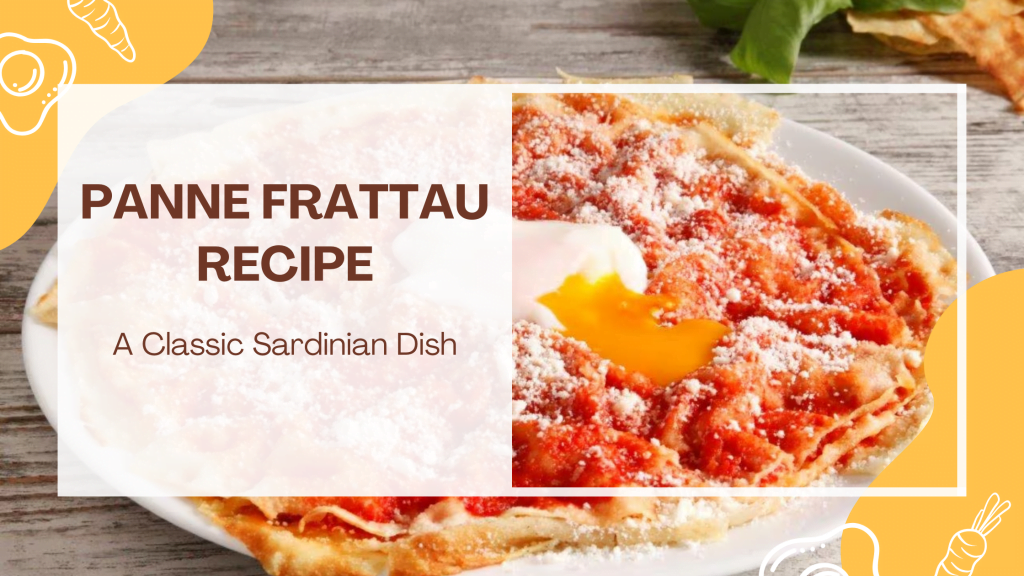 Disclaimer: This post may contain affiliate links of products I've used or approve; If you buy from them, you won't pay a penny more but I receive a small compensation that helps me create more content like this! Thank you 🙂
Panne Frattau is a traditional Sardinian dish that is hearty, flavorful, and perfect for a comforting meal. The dish is made with panne carasau, which are thin and crispy bread sheets, layered with meat sauce and a poached egg. The result is a delicious and satisfying dish that is sure to please everyone at the table. So go ahead and try this Panne Frattau Recipe (with meat sauce), you won't be disappointed.

How to make Panne Frattau:
Ingredients for 4:
8 sheets of panne carasau
1 liter of vegetable stalk
1 pound of ground beef
1 onion, diced
2 cloves of garlic, minced
1 can of crushed tomatoes
1 teaspoon of salt
1/2 teaspoon of black pepper
4 eggs
1/4 cup of grated Pecorino cheese
2 tablespoons of olive oil
Instructions:
Start by preparing the meat sauce. In a large skillet, heat the olive oil over medium heat. Add the onion and garlic and sauté until softened, about 5 minutes.
Add the ground beef to the skillet and cook until browned, about 10 minutes. Drain any excess fat.
Add the crushed tomatoes, salt, and pepper to the skillet and stir to combine. Bring the sauce to a simmer and let it cook for 20 minutes, or until the sauce has thickened.
While the sauce is cooking, poach the eggs. Fill a medium saucepan with water, bring it to a simmer over medium heat. Crack the eggs into a small bowl, and gently slide them into the water. Cook for about 3-4 minutes, or until the whites are set but the yolks are still runny.
Warm the vegetable stalk
Dip 4 panne carasau sheets, one by one (super carefully) in the stalk
Place each panne carasau sheet on individual plates.
Spoon the meat sauce over the panne carasau, making sure to cover it completely.
Layer with the remaining  panne carasau sheets dipped in broth and add another thin layer of meat sauce
Place the poached eggs on top of each plate with panne carasau and meat sauce.
Sprinkle the grated Pecorino cheese over the top.
Serve the panne frattau warm.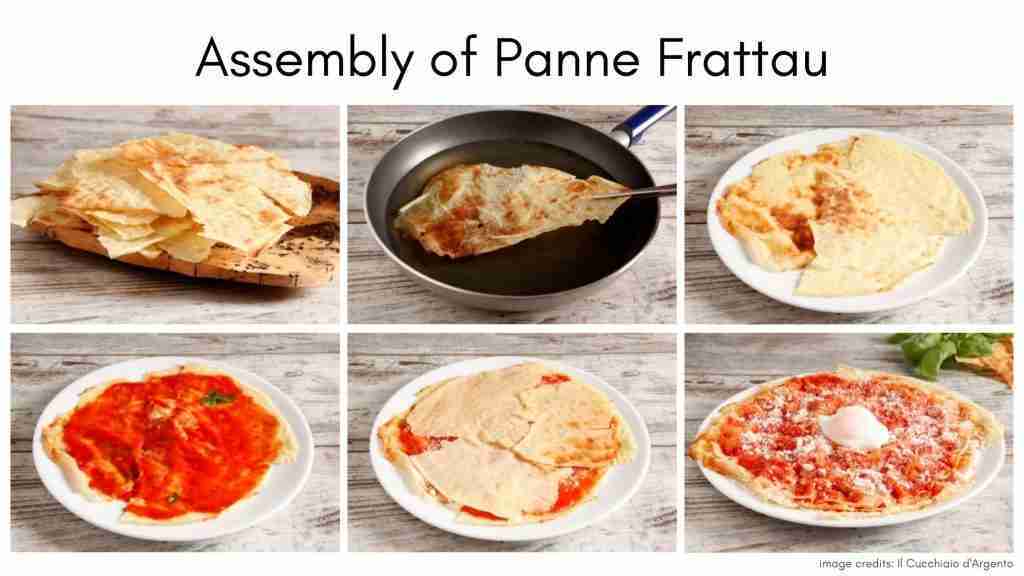 Panne Frattau is a delicious and satisfying dish that is perfect for a comforting meal. The combination of panne carasau, meat sauce, and a poached egg make this dish a must-try for any food lover. The Sardinian traditional dish is easy to make and perfect for a family dinner. So, give it a try and let us know how it turns out!
*This article was written with the help of OpenAI's Assistant AI.