The Best Shark Vacuum for You – Shark HZ500UKT review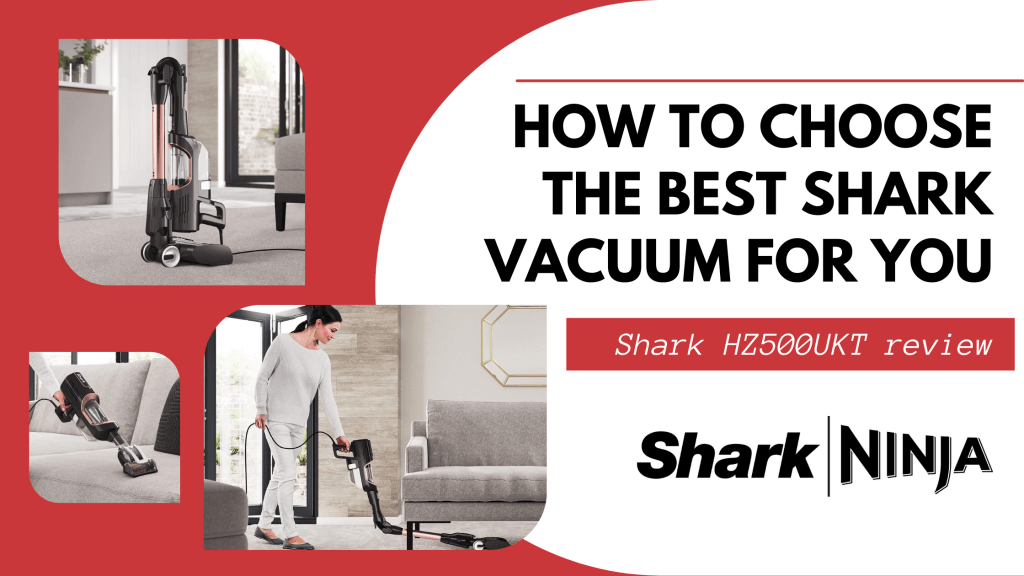 FTC Disclaimer: I received this product from Influenster and Shark in exchange for my honest review.
This post also contains affiliate links and I will be compensated if you make a purchase after clicking on my link.
How to Choose the Best Shark Vacuum for You – Shark Anti Hair Wrap with Flexology and TruePet HZ500UKT review
Vacuum cleaners are an essential part of our homes. We use them to clean floors, clean the air, and keep animal hair away from the house. The best Shark vacuum for you depends on a lot of factors like the cleaning style, the size of the room, the type of flooring you have, your budget, and so on.
Depending on your needs you should consider a wide variety of cleaning options and functionalities.
Some factors people usually look for are:
Having a lot of suction power, be easy to empty, and have a long life span. One with all these characteristics will almost always make it suitable for different cleaning jobs.
Specially designed Shark vacuums are specifically designed for specific cleaning needs. For example, a Shark vacuum that is specifically designed for pets and pet grooming is called as a "pet" vacuum. So it is important to choose one that suits your needs.
8 Reasons Why You Should Buy the Shark Anti Hair Wrap with Flexology and TruePet HZ500UKT:
Shark offers a free 5-year guarantee upon registration & has a dedicated customer care team.
No battery stress no more worries about battery life and charging. 
Anti Hair Wrap Technology actively removes hair from the brush-roll as you clean, helping to keep it tangle-free.
Perfect for carpets & hard floors, Shark's DuoClean floorhead glides across all floors drawing in large & small debris;
LED headlights illuminate hidden dust.
Flexology bends to clean under furniture & folds for freestanding storage.
Long 10m power cord gives you extra cleaning reach.
Transform into a handheld vacuum with precision nozzle for on-the-spot cleans: includes Crevice Tool & Multi-Surface Tool.
Beautiful design in rose gold. Appliances do not have to be boring, and unnapealing.

Are Ninja and Shark the same company?
SharkNinja is an innovative leader in the housewares industry and creator of the familiar household brands, Shark® and Ninja®. SharkNinja provides the latest in easy-to-use technology with a growing line of products that consists of corded and cordless vacuums, steam mops and cleaners, irons and garment steamers, and a variety of small kitchen appliances. All SharkNinja products are designed to fulfill multiple consumer needs, eliminating the need for extra appliances that add clutter to a home. Products are sold at major retailers and through distributors around the world, as well as directly to consumers. SharkNinja, Ninja, and Shark are trademarks of SharkNinja Operating LLC.
Best Shark Vacuums on the Market with "Unbelievable" Performance, Cleanliness & Price
If you already love the Shark Anti Hair Wrap with Flexology and TruePet HZ500UKT, get to know some other great options by Shark:
Shark Cordless Pet Pro Stick Vacuum - Orange
Shark ION Wi-Fi Connected Robot Vacuum - RV765
Shark UltraCyclone Pet Pro+ Cordless Handheld Vacuum - Black
Shark WANDVAC Cord-Free Handheld Vacuum
Final Remarks on the Shark Anti Hair Wrap with Flexology and TruePet HZ500UKT review:
If you like the idea of a stick vacuum cleaner but don't want to worry about battery life and charging, then the Shark Anti Hair Wrap with Flexology and TruePet is a solid corded alternative. I consider it one of the best Shark vacuums. It has all the features you'd expect to find on a Shark cordless, but without the battery. Instead, it comes with a cord that needs plugging into a wall socket, like a traditional upright vacuum cleaner.
The motorised floor head incorporates Shark's DuoClean technology, with both a soft roller and a carpet brush, so it's capable on hard floor and carpet without having to switch rollers or floor heads. As the name implies, it also uses Shark's effective Anti Hair Wrap to avoid getting tangled with hair, and the Flexology part of the name means that you can bend the extension wand to push under low furniture and fold it up for easier storage.