7 Easy ways to make money fast in 2023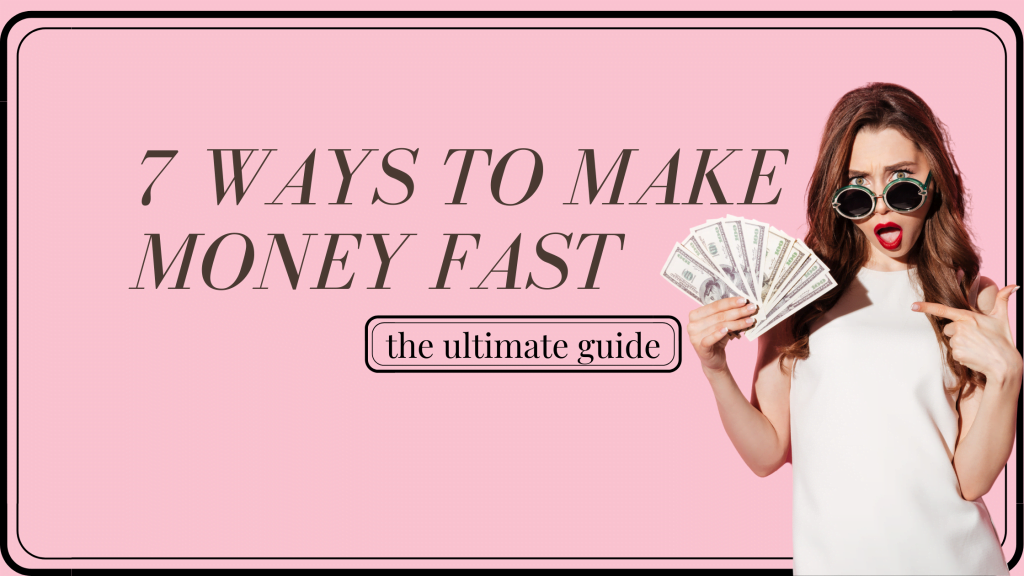 Everyone is always on the look for the best discounts and promotions, but what if you can actually make free money as well?
Here's how you'll stop paying full price on almost anything and get free money fast & easily:

What is it and how does it work:
Honey is a free browser extension that unlocks the internet's best deals. One click and Honey automatically finds, tests, and applies the best coupon code at checkout on 40,000+ popular sites like Onnit, LetsGetChecked etc.
Honey works by looking at the items in your cart on most popular shopping websites and then searching for relevant coupon codes. If it finds any working codes, it enters them automatically, and you end up saving money without the hard work of searching for and entering them manually.
Here are the basic steps involved in using Honey:
Shop on any one of your favorite websites as you normally would.
Open your cart, or check out, but don't complete the process just yet.
With the cart or check out page open, click the Honey icon that's located in the extensions or add-ons section of your web browser.
Click Apply Coupons.

Note: If Honey thinks it's unlikely that it will find a working coupon, the extension will tell you this. Click Try Anyway to force it to look for coupons.

If Honey finds any coupons, it will enter them automatically.
Click Continue to checkout, and complete your purchase as you normally would.

How does it work:
Cently is a browser extension that saves you money when you shop online.  It serves as your faithful savings companion, capable of finding you the best deals and discounts on thousands of shopping sites across the web. You'll no longer waste your time and energy manually searching for coupon codes that may or may not save you money.
In a single click, Cently can automatically scour the web to find current coupon codes, test them out, and apply the one(s) that save you the most money without ever leaving the checkout page. You can stick to shopping and Cently will take care of the saving.  
When you're not shopping, Cently will just patiently be waiting for its next outing.  It's designed to be as unobtrusive as possible and won't affect normal browsing.
To install Cently, follow the instructions below:
Proceed to Cently's Chrome Web Store page.
Click the "Add to Chrome" button.
Click "Add Extension" in the popup to install.

Learn more about Curve:
Curve (also known as the Curve card) is a payment card that aggregates multiple payment cards through its accompanying mobile app, allowing a user to make payments and withdrawals from a single card. It lets you "switch the bank card you paid with after each transaction is complete.
Curve allows you to spend from any of your accounts using just one Curve Mastercard®.
Load your Mastercard or Visa debit and credit cards to the Curve app, and spend using just the Curve Mastercard® 
You can select the account that you would like to pay with using Curve by simply opening the Curve app and tapping a bank card – that account will instantly become "active", ready for you to spend with.
Save when you spend abroad 🌍
When using your bank cards abroad, most banks add up to 5% in fees for currency exchange. Eliminate those fees with Curve and get access to the market rate for currency exchange +1%.
No hidden fees and no top-up. The only card you need to pack.
How much does Curve cost?
The standard Curve Blue card is free (with no subscription fees). 
Sign up now for free and get 5$ to spend anywhere by using the code EA7WO9N

What is it and how does it work:
Airbnb is an online marketplace which lets people rent out their properties or spare rooms to guests. Airbnb takes 3% commission of every booking from hosts, and between 6% and 12% from guests.
There's plenty of criteria to list for/search a property: from a shared room to an entire house, to having a swimming pool to having a washing machine. There are photos of the property, and the hosts/guests, with full map listing.
You can be a host and earn money by signing up to their platform as a host (click here).
Or, you can be a guest and get up to 100$ on your first trip (click here).

Printful one-on-one:
Printful is a printing service that enables you to prepare custom designs for you and sends them directly to your customers. Printful offers you the drop shipping service without your inventory, a way to sell products without managing physical inventory or shipping them yourself. 
Printful offers you products without logo on such as dresses, t-shirts, hats, posters, etc. You can create products with your own logo by adding and changing the additions like logo, sticker, emoji onto the products you have selected in the panel you are presented.  You can integrate the products you make to Amazon, eBay. Etsy, Woocommerce etc. e-commerce stores.
Making it simple:
You can create your own products for free and start earning money by selling the online (via Amazon, eBay. Etsy, Woocommerce etc.), without having to worry about shipping, inventory and staff. 

What is it and how does it work:
Founded in 1996, lookfantastic.com is the original online British beauty boutique. Today, the Lookfantastic Group is Europe's number one retailer for beauty and number two globally. They are the ultimate destination for hair, beauty, skincare and all things gorgeous.
With over 12,000 products from more than 450 brands across hair, make up, skin care, body care, electrical, home fragrance and organic, they have something for everybody.
Attracting over a million unique visitors a month, lookfantastic.com has grown from strength to strength and continues to lead the online beauty market. They pride themselves on our wide range of brands and products, exclusive free gifts with purchases and fantastic member rewards.
With a highly dedicated and motivated team of beauty experts, who receive regular training directly from brands, lookfantastic.com provides you with accurate and intelligent information on each product; supplying some of the leading luxury beauty brands such as Kérastase, FOREO, Dermalogica, Redken, Chantecaille, Jurlique, Matrix, REN, EX1 Cosmetics, Elemis and their very own lookfantastic Beauty Box.
Making it simple to get free money:
Invite people and earn 10$ for each referral that makes his first purchase. Your invitees will also get 15% off their first order.
What is it and how does it work:
Fiverr is a global online marketplace offering tasks and services, beginning at a cost of $5 per job, hence its name. The site is primarily used by freelancers who use Fiverr to offer services to customers on a global scale.
Signing up for Fiverr is free. Only registered users can buy and sell on Fiverr.
To join Fiverr, click here.
Ways of making money on Fiverr:
Offer ebooks or reports you've written.
Offer social media services.
Write quickly and get paid.
Alter pictures.
Create digital drawings.
Design flyers.
Become a virtual assistant.
best saving money apps cently savings coupons Discount code free free money honey saving saving money