Best Halloween Gift Baskets For Adults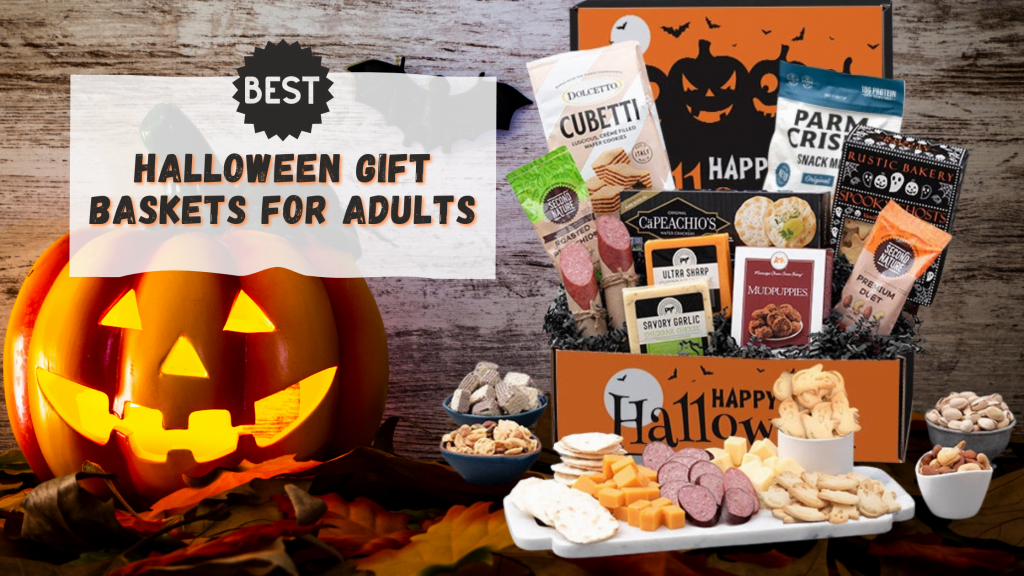 Get ready to elevate your Halloween gifting game with the ultimate treat: the Best Halloween Gift Baskets for Adults. While Halloween might conjure images of crafty ogres, skeletons, and hags, there's an even scarier aspect for some—encountering lackluster candy on October 31st. The disappointment of receiving subpar treats while tirelessly roaming the neighborhood can turn the night into a frightful experience. Fear not, for this year, let the trick-or-treaters handle the scares, while you delight your favorite mortals with meticulously curated Halloween gift baskets. Overflowing with top-tier treats, these baskets are set to transform the way you celebrate the spookiest season.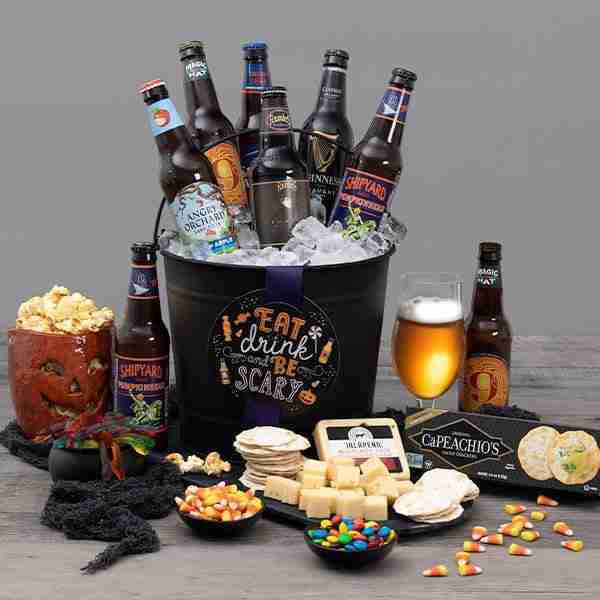 Double, double, toil, and trouble! That's exactly what you'll get with this Halloween Gift Basket. Gourmet Gift Baskets will send your loved ones a black "cauldron" pail filled with the best Halloween treats and beers any ghoul or goblin could want. It has classic chocolate and sugary candies such as peanut butter cups, chocolate M&Ms, candy corn, and more. This gift also includes Halloween-themed kettle corn and a festive gift tag. A perfectly frightful holiday-themed gift!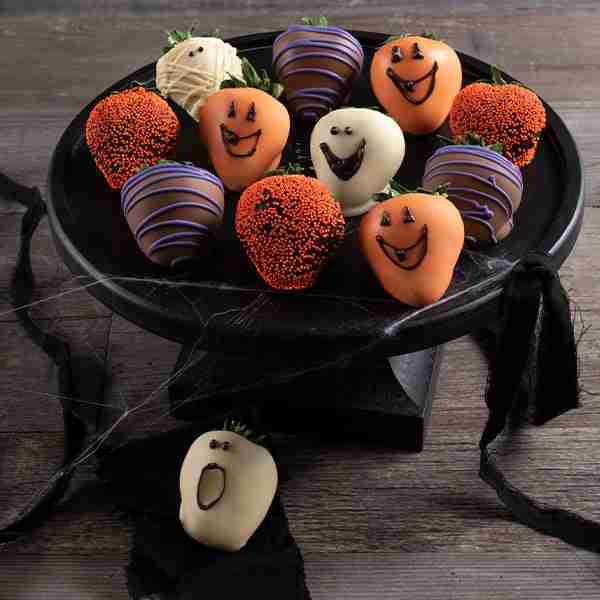 If you need to add an elegant touch to your Halloween Gift Baskets, these irresistible treats are it! They are also ghostly good! Perfectly ripe strawberries, gently dipped by hand into baths of exquisitely smooth imported Belgian chocolate. Each fruit is then elegantly embellished with tiny nonpareils, ribbons of silky confectionary drizzle, or adorable Halloween-themed designs.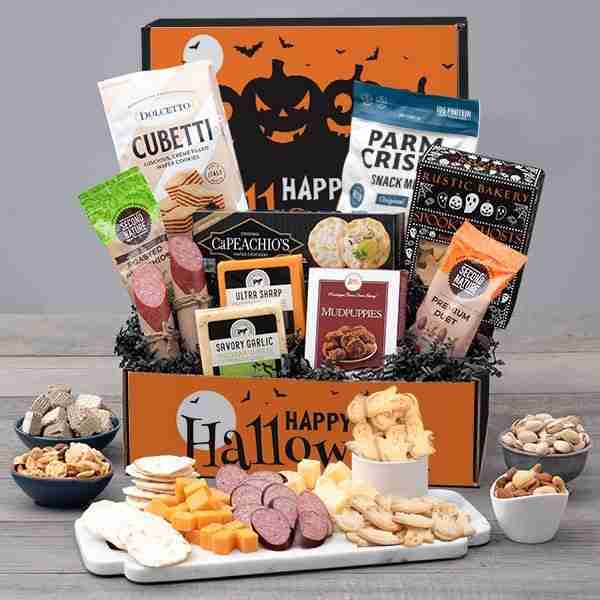 Summer sausage, water crackers, and cheese – oh my! This Haunted Halloween Care Package – Meat & Cheese will have them gasping in delight, not fright! Gathered inside a classic Halloween jack-o'-lantern box are all the fixings they'll need to create an otherworldly charcuterie board! Slice up the sausage, dice the cheese, fan some crackers and use the snack mix, cookies, and nuts to fill in the ghostly gaps. Their guests will screech with fright (just kidding!), with delight when they lay their eyes on this All Hallows Eve-themed Halloween Gift Basket!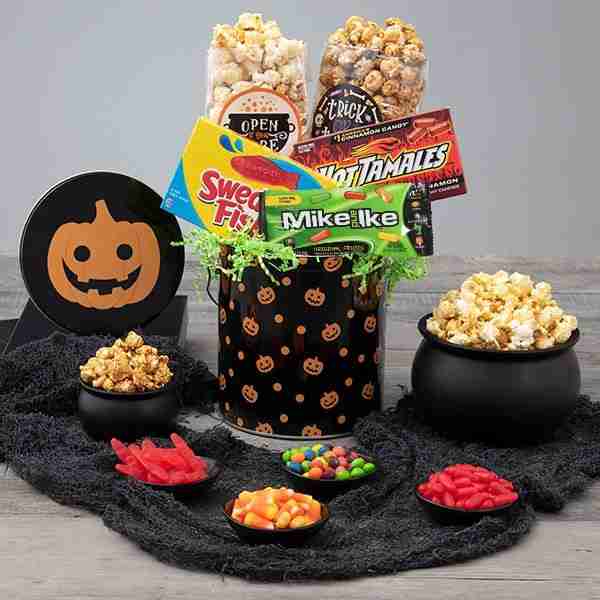 Inside a decorative jack-o'-lantern Halloween-themed gift tin, your recipient will excitedly discover a shocking variety of gourmet treats like sweet candies and gourmet popcorn. This fun gift is sure to make someone's Halloween spook-a-licious this year!
As the moon rises on Halloween night, and the air becomes tinged with an eerie excitement, the Best Halloween Gift Baskets for Adults offer a bewitching solution to the age-old dilemma of lackluster treats. No longer will you need to dread subpar candy or toilet-papered houses; instead, you can revel in the joy of gifting a carefully crafted assortment of delights to your beloved adults. Whether it's indulging in decadent chocolates, savoring artisanal treats, or raising a toast to the spirits of the season, these gift baskets are more than mere presents – they are enchanting experiences that embody the true essence of Halloween. So, embrace the magic, embrace the merriment, and embrace the opportunity to make this Halloween a truly unforgettable one for the adults who add a touch of enchantment to your life. Happy Halloween!
*This article was written with the help of OpenAI's Assistant AI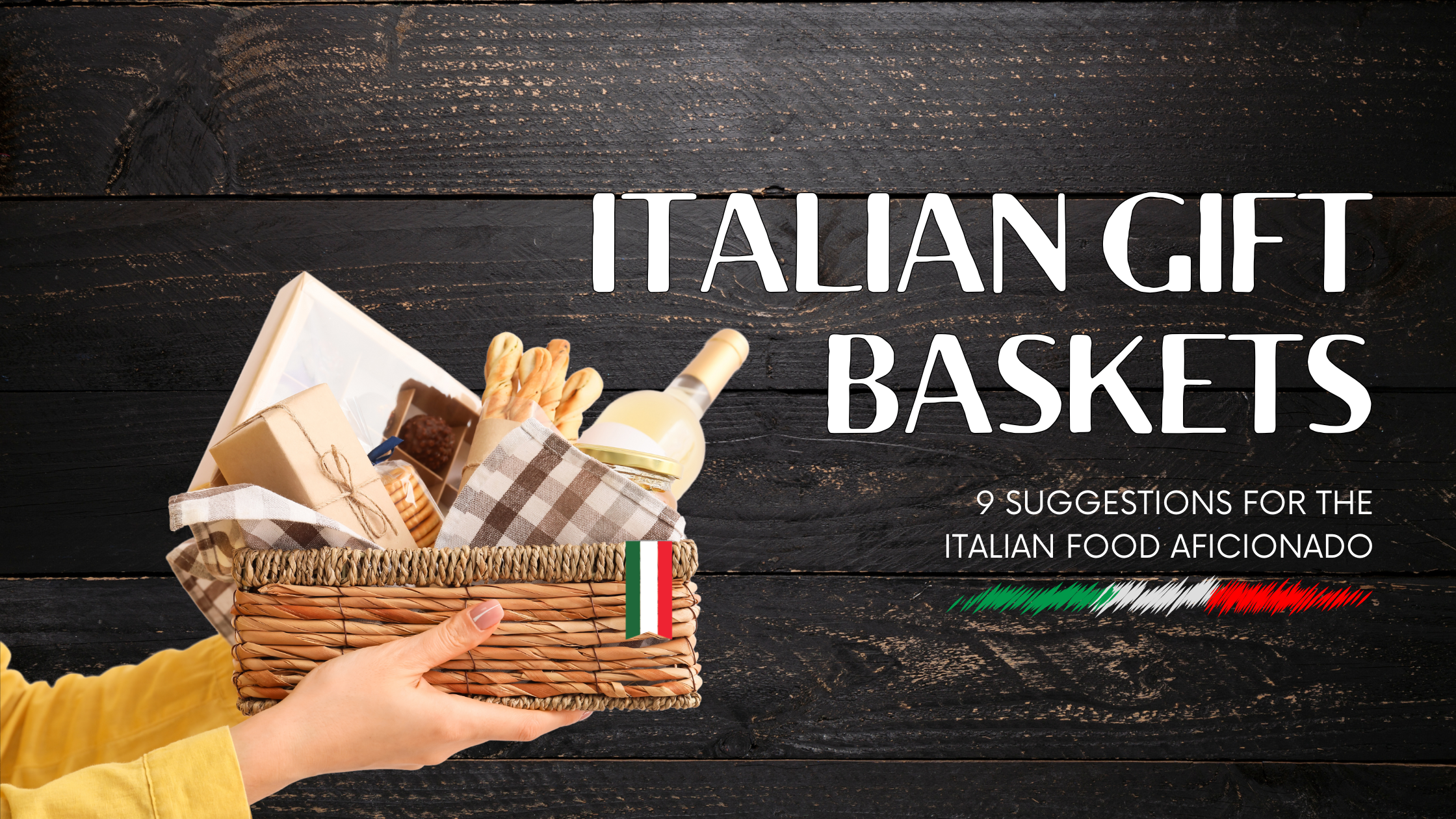 Are you looking for the best Italian Gift Baskets? Embark on a sensory journey through the enchanting landscapes of Italy with these 9 handpicked suggestions.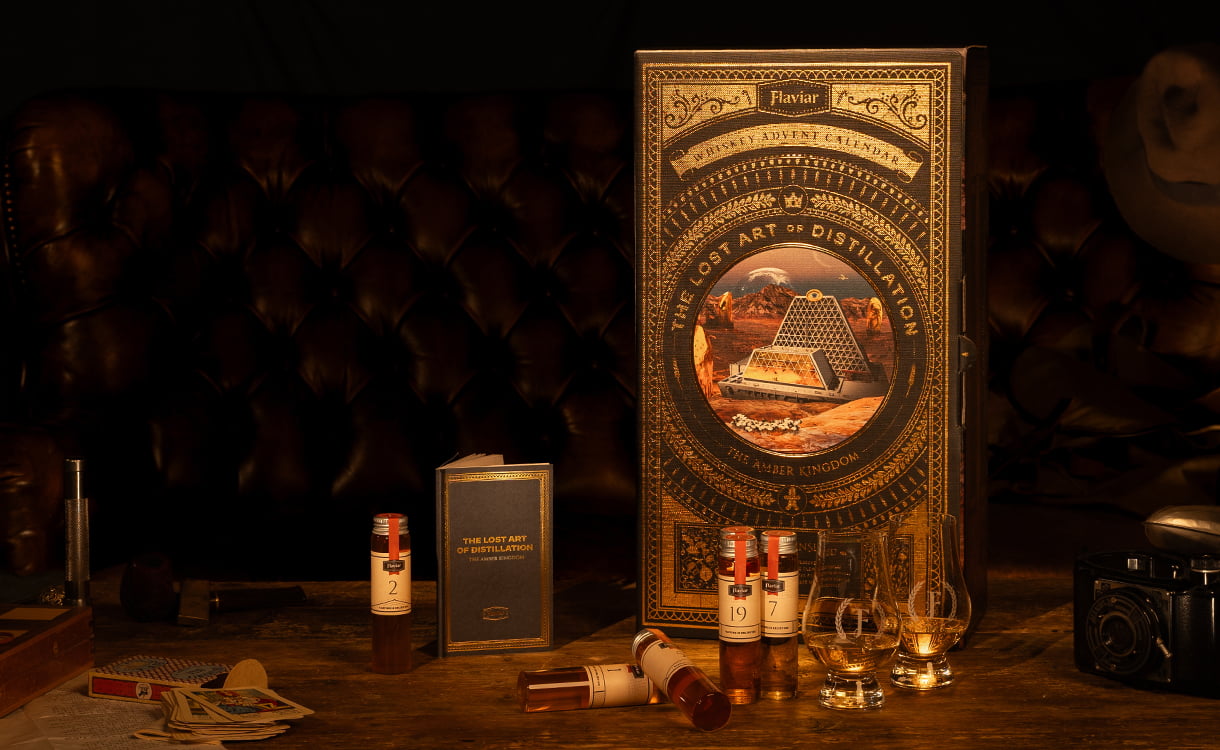 Explore the Flaviar Advent Calendar for 2023, taking you on a journey through its contents, the excitement it brings, and why it's the ultimate gift for whisky lovers.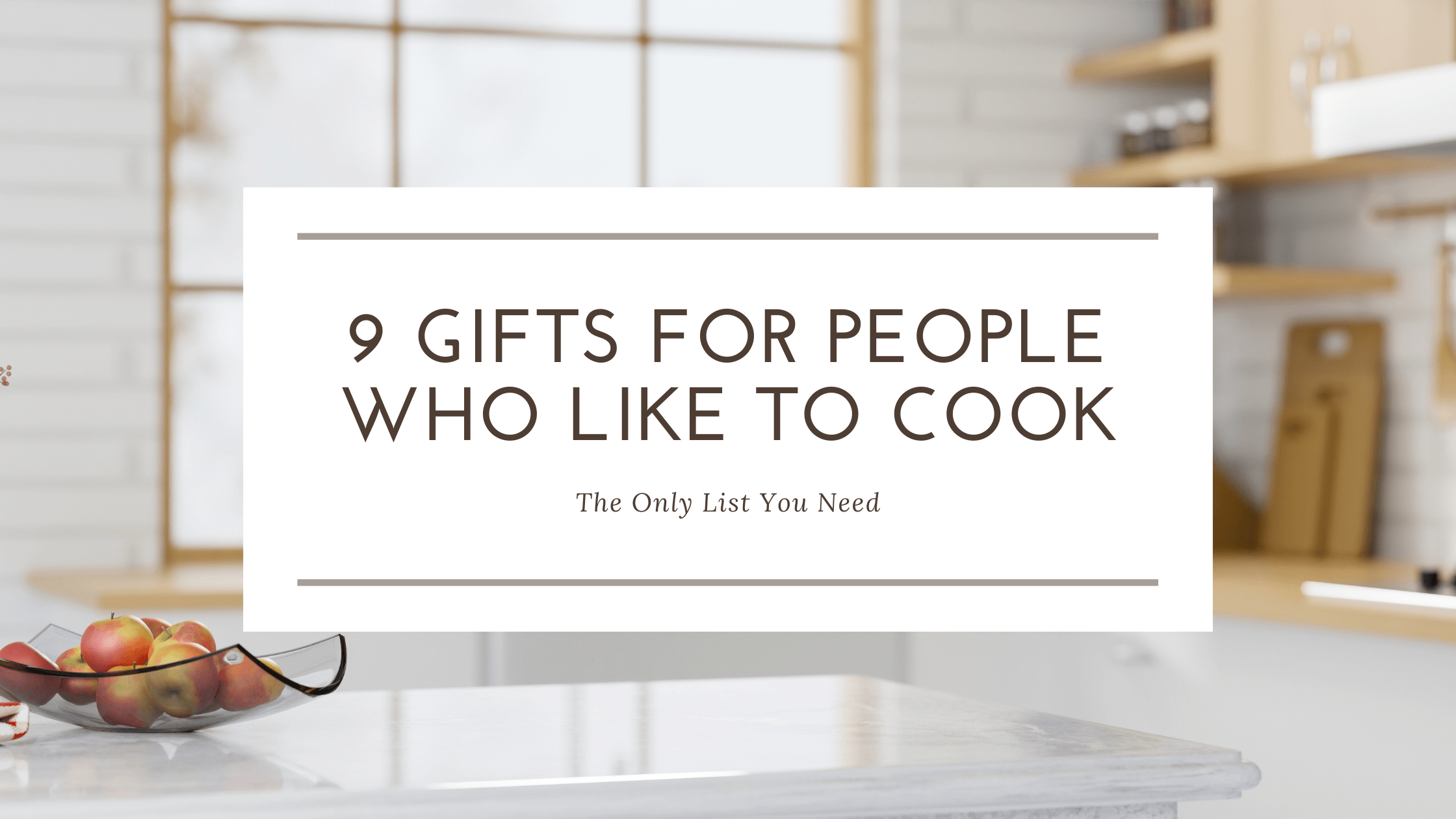 From the latest kitchen gadgets to essential tools and resources, these gifts for people who like to cook will inspire and elevate their culinary skills. 
Best Halloween Gift Baskets For Adults halloween Halloween Gift Baskets